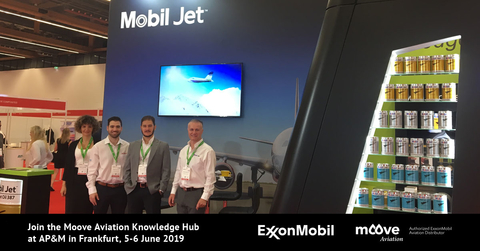 Join our Knowledge Hub at AP&M in Frankfurt, 5-6 June 2019
If you haven't yet signed up for our Knowledge Hub at June's AP&M show in Frankfurt, don't delay – it will be a chance to hear answers, direct from the Moove Team, to questions that so often challenge aircraft operators, engineers and MROs.
Questions such as…
How do I avoid the risk of lubricant contamination in storage?
And what about water or particulate contamination when transferring to service carts? Are we taking the right steps to ensure ultimate reliability?
Is there a solution to the problem of grease hydrolysis? Degradation? Foul smells?
And skin irritation? We don't want health and safety issues with our maintenance personnel.
Where can I find reliable advice on the best oil to use in generators?
These and other topics will be tackled by our experts at the Knowledge Hub on our stand (Booth E149, next to the central VIP Lounge) at AP&M.
We'd be more than happy to help.