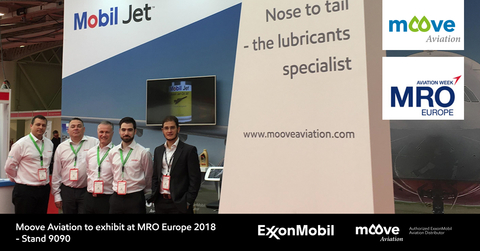 Moove Aviation: MRO Europe 2018
Following the success of our presence at the Aviation Week AP&M Expo in May earlier this year, Moove Aviation will be exhibiting at MRO Europe for the second time, at the RAI Amsterdam from 17th – 18th October. This sell-out exhibition is Europe's premier aviation and aerospace event for thought-leaders, innovators and suppliers to the commercial air transport maintenance, repair and overhaul industry.
This year's exhibitors' list is a comprehensive A to Z of global leaders from across the industry; over 400 experts will be presenting products, tools and services designed to streamline processes, simplify supply chains, improve output and optimise performance and efficiency. With 85% of attendees having buying power and influence, visitors and exhibitors can take advantage of structured networking time to exchange ideas, discuss best practice and take advantage of educational sessions and demonstrations, all aimed at driving growth across the sector. The 3-day MRO conference, which opens a day earlier on 16th October and runs simultaneously, promises to be an unrivalled forum, packed with debate and analysis from keynote speakers on the latest trends and challenges, as well as the future opportunities and innovations that lie ahead in aviation and aerospace.
Where will the team be?
You can find the Moove experts at Stand 9090, at the junction of Van Gogh Avenue and Tulip Way. Click here for our location.
At Moove Aviation we focus on providing world-class support, service and technical solutions to the aviation industry. As an authorised distributor of ExxonMobil aviation lubricants, our network of warehouses and logistics hubs across Europe ensures our customers have access to the best products at the right place and at the right time.
The Moove promise is simple: customer first – what you need, where and when you need it. Every time.
In an increasingly competitive and evolving global industry, our experts will be on hand at MRO to talk you through the world-class services and technical solutions that accompany our extensive range of world-leading Mobil jet oils, hydraulic fluids and greases.
Moove Aviation are looking forward to our second exhibition of the year at this leading event in the global aviation calendar and welcome the opportunity to share ideas with our fellow industry professionals and to forge new relationships.
If you would like to contact our aviation professionals to arrange a meeting during or before the event, please contact us directly or book a time with us via our website.
Moove Lubricants is an Authorised ExxonMobil Aviation Lubricants distributor in Europe. Moove operates extensively throughout South America, Europe and Asia; representing Mobil products in the automotive, industrial, marine and aviation sectors.