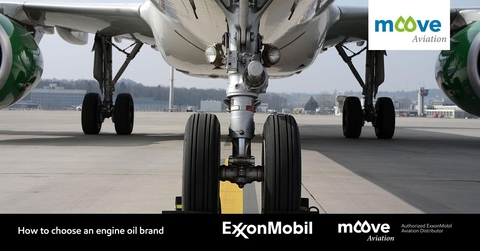 How to choose an engine oil brand. The key considerations…
Turbine engine oils in operation today are built to protect components from wear and stress, in order to sustain maximum unit longevity and to meet the needs of todays high temperature powerplants.
The needs of airlines and operators can however change and thus the requirement to switch to an alternative engine oil brand can sometimes be considered.
Changing your oil brand can seem like a task which requires a lot of internal investment or a logistical conundrum. However, Moove Aviation have explored the topic to dispel any common misconceptions around the change; in response to a question we are often asked by our new customers.
After all it is important to find the best performing formulation for your engine and accessories.
What are the key considerations?
There are three key factors to consider prior to switching brands, these are explored further below;
1. Specification Adherance
Ensure that the product that you are considering meets the relevant engine OEM specification. This is the first and most Important aspect of your lubricant choice. Fortunately ExxonMobil's range of JetOil products cover the vast majority of the main engine builders' specifications and requirements
2. Top Up Method is usually best
Oil deposits can build up over time, produced from the previous lubricant and can possibly be removed from their formation site by a new oil. However, with varying levels of deposits being produced from different brand lubricants, complete removal is not considered to be 100% effective, nor predictable. According to ExxonMobil, conducting the process by top up over a longer period of time, allows for the deposits to shift over a greater period, thus minimising any impact on the oil filtration systems.
3. Optimising O-ring seal effectiveness
O-ring elastomer seals found in the engine require an optimal equilibrium to be reached between the compression set and the lubricant swelling action. Altering these conditions radically (such as a complete change in lubricant with a different formulation) can cause an imbalance in the equilibrium. To counter this, a slow introduction of the newly chosen oil brand has been shown to lessen these effects; to ensure the balance is sustained. Using this method it would be expected that within 100-200 flying hours 95% of the new lubricant should be active in the oil system.
How easy is it?
With the right Technical support, switching to a new oil does not need to be a complicated process; careful planning and timelines can assist in delivery and implementation. As discussed above existing oil currently in use is not typically drained from the system, it is topped up ensuring both environmental and cost implications are minimised. This topping up process enables the addition of a new oil to be transitioned correctly, whilst the preceding product is utilised to its end. Also please be assured that compatibility and miscibility between different brand turbine oils is a mandatory requirement of all MIL and AS specified products.
The above considerations should be the first port of call before any implementation program. Exercises such as prior testing, reviewing the engine AMM, and consulting with a technical expert from the new provider, are recommended before a change in engine oil type or brand.
Our Jet Engine Oils
With an ambition of having the most forward thinking products within the aviation lubricant sector, Mobil Jet Oils from ExxonMobil are designed to meet today's and tomorrow's aviation challenges. Moove Aviation has further investigated product specifications for: Mobil Jet™ Oil II, Mobil Jet™ Oil 387, Mobil Jet™ Oil 254 in the blog 'The Jet Engine Oils built for today and tomorrow'.
Contact the Moove Aviation team of experts
Talk to our team today where our experts can give you a detailed run down of these considerations and the benefits of Mobil Jet Engine Oils.